Here is a preview of the new DMK version and functionalities.



Karaoke player always compatible with the .kok, .kar and .cdg formats.


New advanced management of playlists (Play List).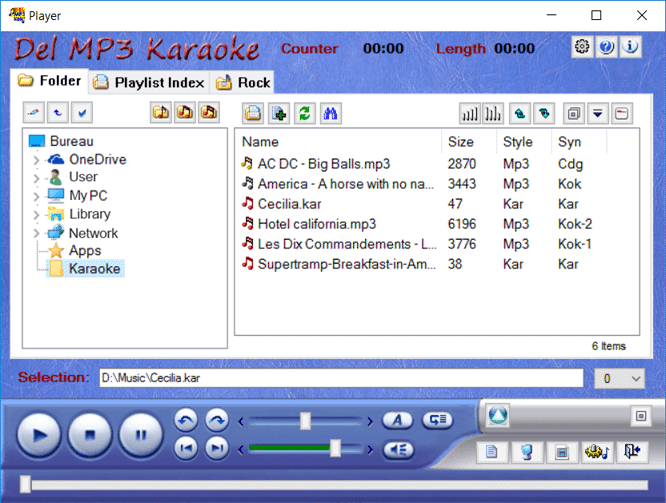 Karaoke window:


New: Display of guitar or piano tabs above words.


Ability to open more than one window to display the lyrics.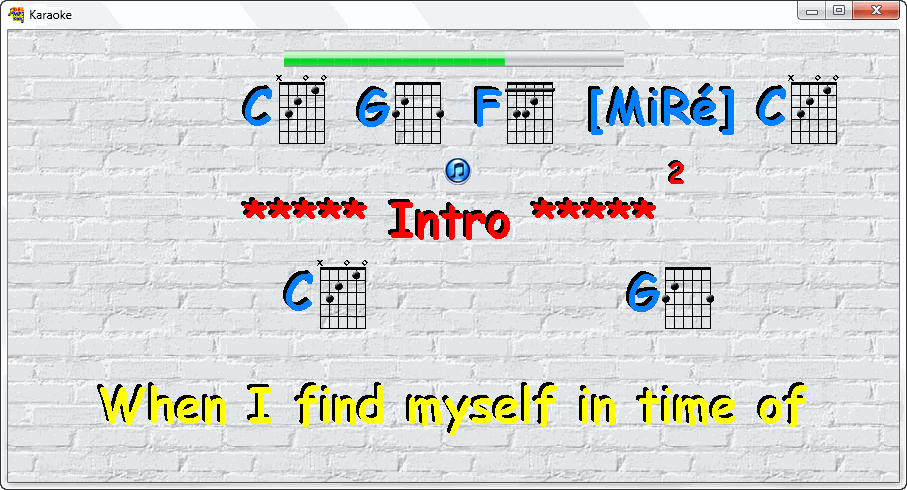 Access control player directly from the karaoke window.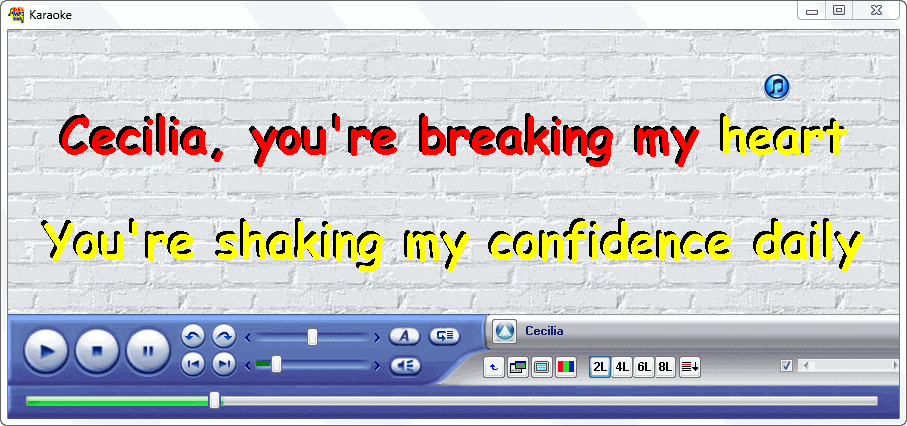 Video:


Player for your videos files (avi and mpg).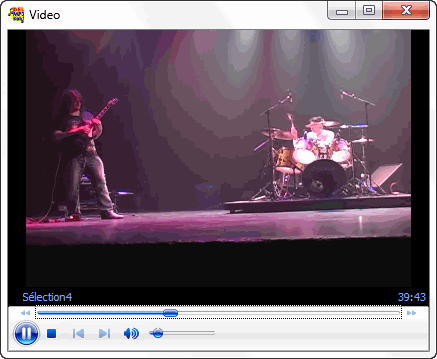 Editor karaoke:


Synchronize your karaoke in a simple way with the DMK editor.


With the editor, you now have the ability to specify musical chords above the lyrics.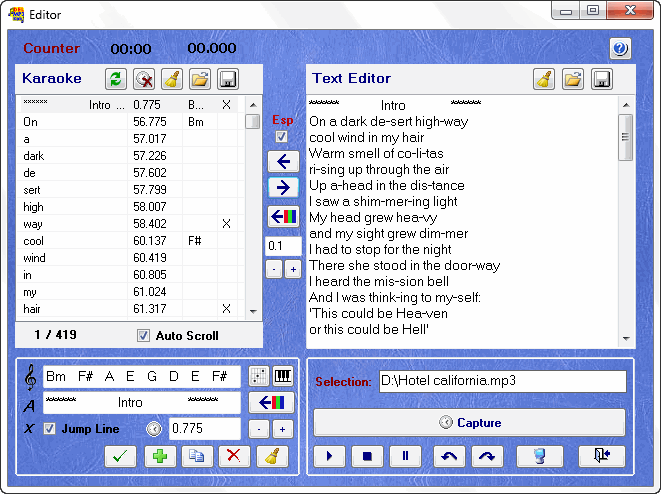 Effect Console Audio MP3.


Change the effects of your audio.


View and edit the frequency bands (Equalizer).


Functions of voice suppression, Echo, Loop ...


Change the tone, tempo, and speed of your audio files.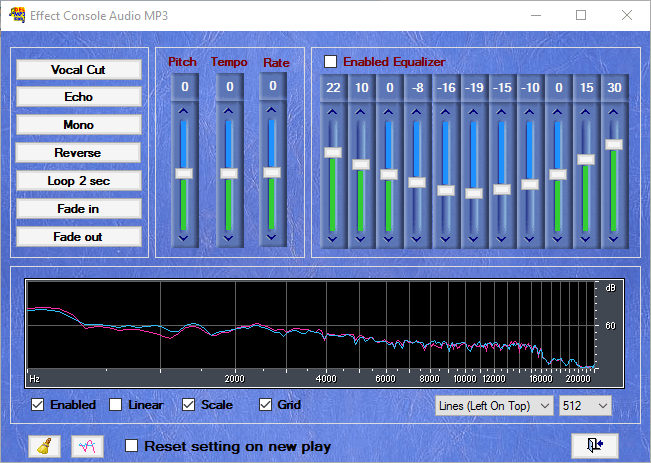 Midi Console :


When a midi file is played, it is possible to modify in real time the instrument,
volume and balance for each channel of Midi file.


Viewing VU meter and note played for each channel.


Save your changes.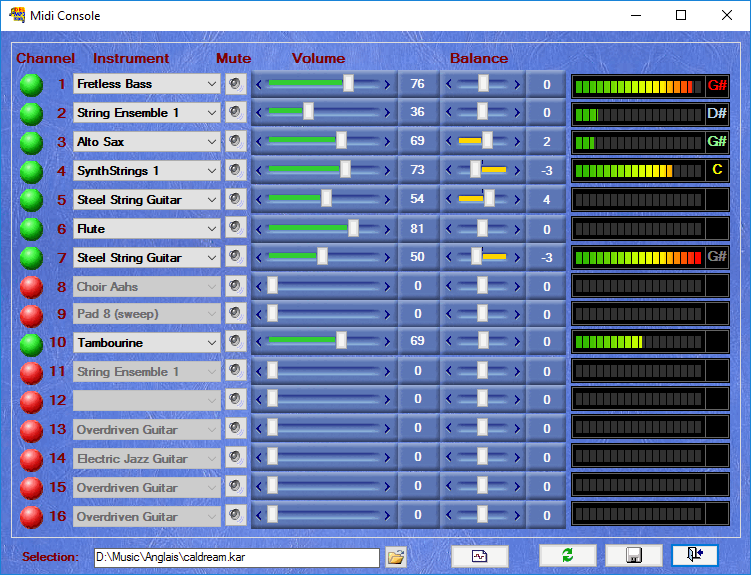 ID3 tag editor for MP3 files:


Allows you to edit the meta-tag information (ID3) inside your Mp3 files.


Modify/add the image into ID3 tag.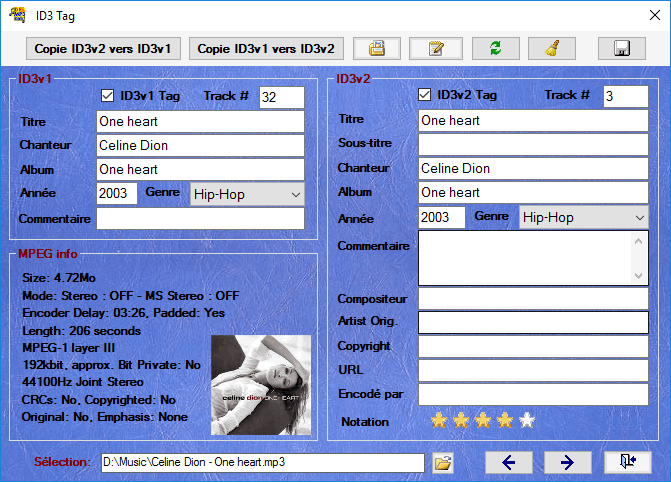 Keyboard (Piano):


Play midi sounds using the keyboard.


Connect your keyboard (electric piano) to DMK.


View and listen different piano chords.


Add your chords with the chords editor.


The notes of each channel while playing a midi file are displayed on the keyboard.


A small keyboard allows viewing more piano keys
and change the transposition of the big keyboard easily.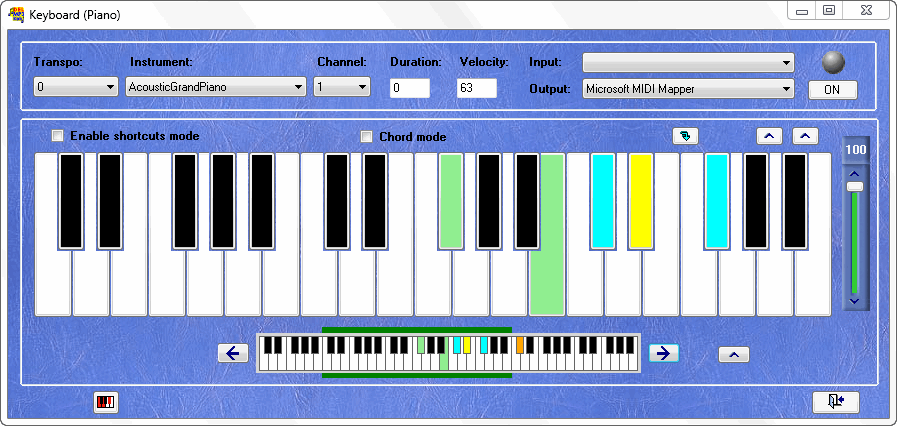 Shortcut mode, start any karaoke, sound or another file from the keyboard.


Connect your real piano karaoke to DMK and start your shortcuts directly from it.


Play at the same time sounds and karaoke, Ex: start a sound effect (applause, laughter ...)
during a (real person) performance !



Chord/Editor:


This panel allows you to see the different guitar chords diagrams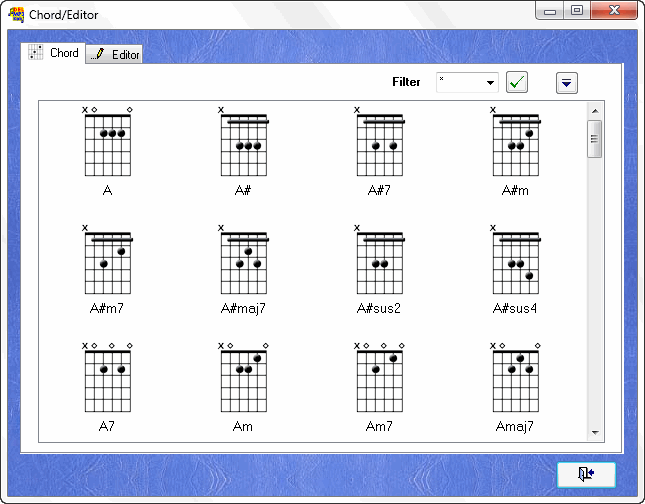 Add or edit the guitar chords diagrams.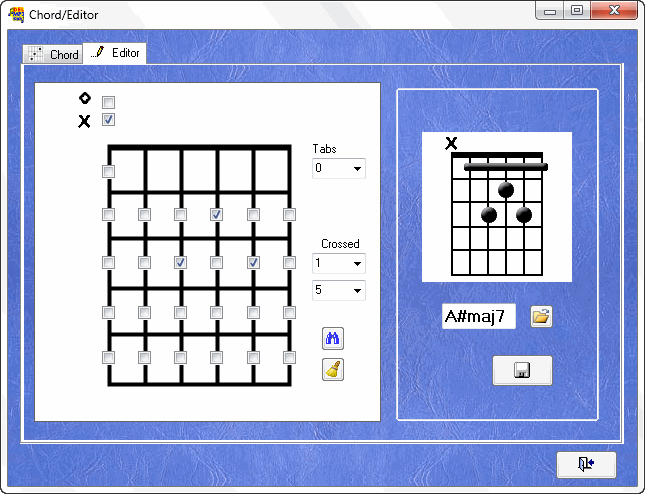 Chord/Editor piano:


This panel allows you to see the different piano chords diagrams.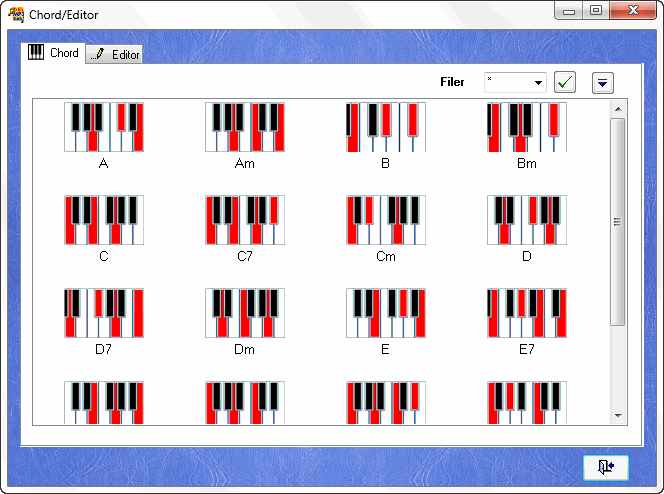 Add or edit the piano chords diagrams.


Listen agreements.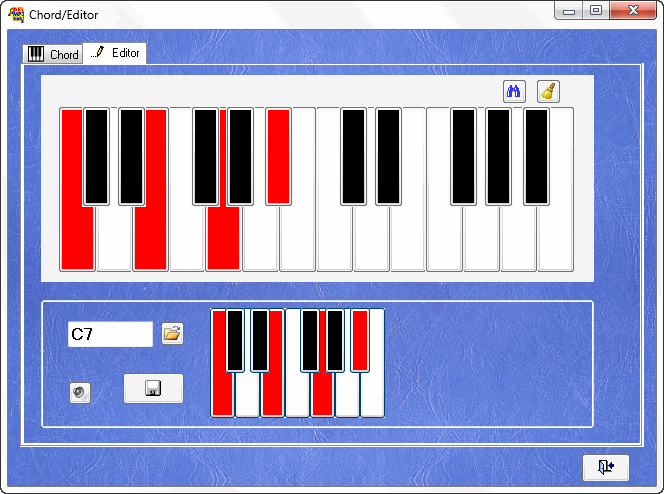 Lyrics:


Display the lyrics of your karaoke.


Save, print lyrics and chords.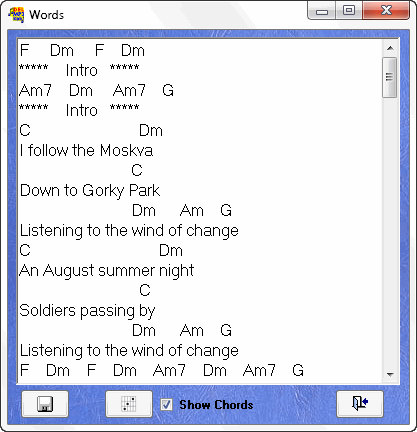 Show tabs chords of your karaoke.


Save, print tabs chords of your karaoke.


Video Avi Creator:


Function to export the karaoke (mp3 + cdg kok or mp3 +) to AVI file.
Then, using software such as "Movie Maker"
it will be possible to create a personalized DVD with karaoke.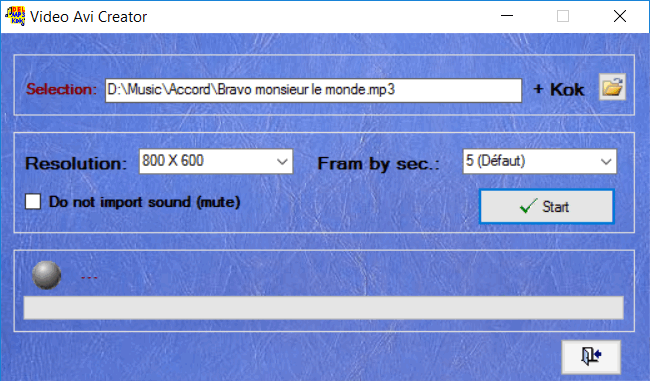 Recorder:


The record sound lets you record your performance.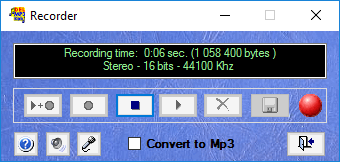 Midi Infos:


View information on the structure of midi files.


Converting midi file type 0 to type 1.


Remove unwanted tracks.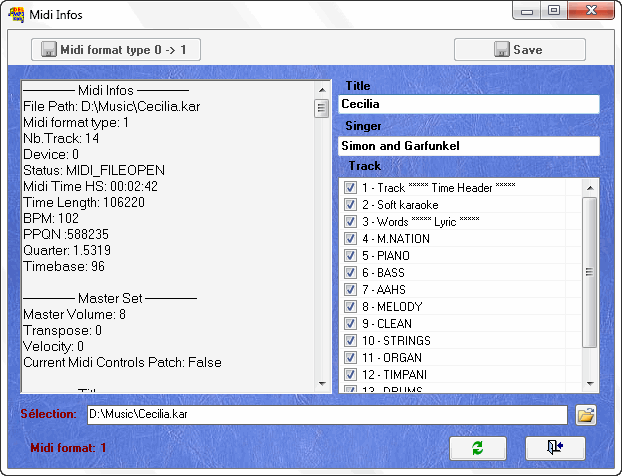 Configuration Karaoke:


Configure your display options.
DMK Configuration:


DMK general configuration.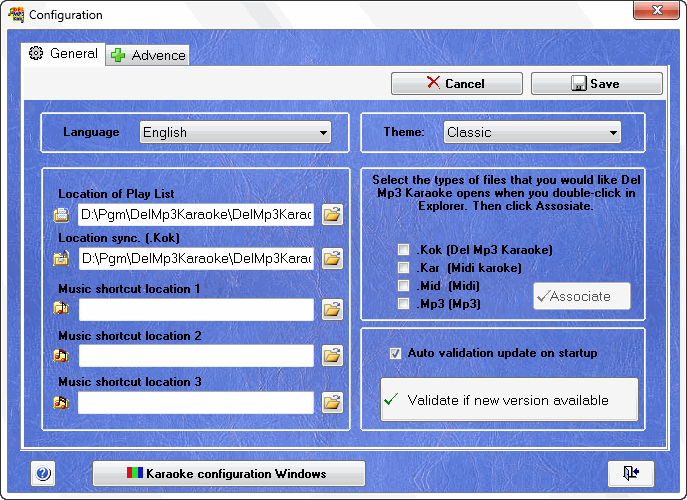 Advance tab configuration .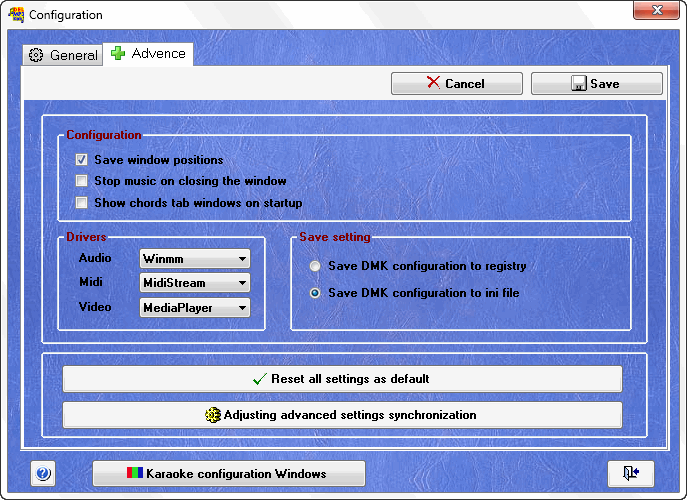 Image Manager:


The Image Manager lets you manage and customize images
which will be displayed on background of the lyrics.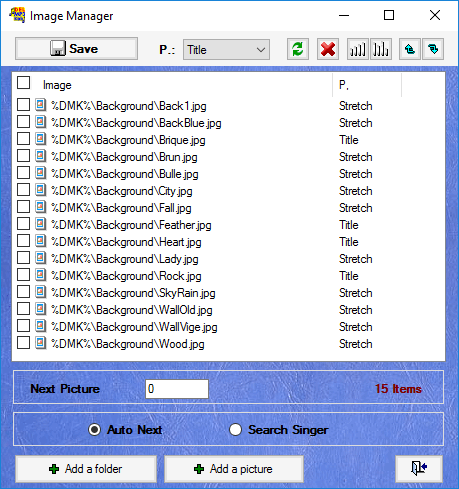 Search:


Powerful search engine.


Search into the MetaTag of Mp3 and Midi files .


Specify multiple search keywords.




Detach lists allows you to drag and drop files from one list to another.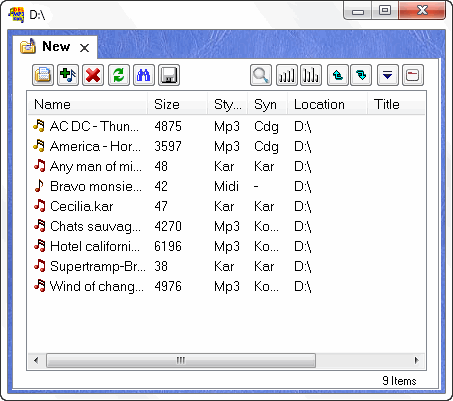 Change the look of DMK by selecting your favorite theme.